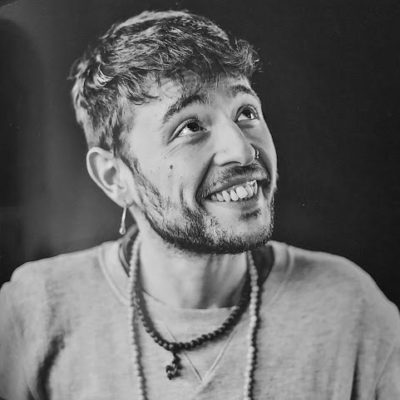 Born in Ribes de Freser in 1986. He began his music studies at the age of eight. With piano as his main instrument, he studied 10 years of classical studies, being examined at the Conservatory of Classical Music of the "Liceu" in Barcelona. At the age of 18 he began to study modern music, first at the Conservatory of Badalona and later at the "Taller de Músics" in Barcelona. There he is fascinated by all the music from Latin America, salsa, Latin jazz, bossa nova, tango … and decides to travel to Havana to continue his piano studies. All that time in Cuba will leave an indelible mark on his music. Returning from that experience, together with Alguer Miquel and Marcel Lázara, they formed the well-known band "Txarango". With her he has recorded 4 studio albums and performed more than 300 concerts in more than 30 countries, touring the best music festivals around Europe, as well as tours in Japan, China, India, Mexico, Colombia …
Apart from that, and due to the political-social side of the group, he has been able to travel to places such as Palestine, Western Sahara, the southern border of Melilla, various refugee camps in Greece and Serbia, Senegal, or Brazil. in a tour by indigenous communities along with "Pallasos en Rebeldía".
In parallel to the band, he has recorded 3 solo piano records. Intimate works that involve a musical journey through the subtleties of his piano and his emotional poetry.